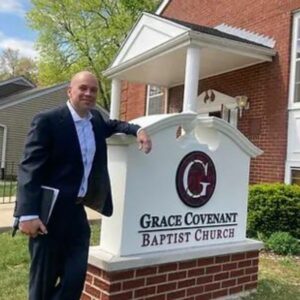 Grace Covenant Baptist Church is the result of God's providence to unite the congregation of Grace Covenant Church with the congregation of Immanuel Baptist Church to continue as a faithful gospel witness in Elgin.

We are a diverse group of individuals and families mutually covenanted together to love one another as the Lord has loved us. We would love to welcome you to link arms with us in our gospel efforts to magnify the name of Christ in our area.
You can find out more about us here on this website by reviewing our statement of faith, our church covenant, and what to expect when you join us for worship. We pray we will see you soon!
We have three regular gatherings as a local church. We meet every Sunday morning for public worship at 10:30 a.m. and every Sunday evening at 5:00 p.m. for prayer and praise. We also meet on Wednesday evenings at 7:00 p.m. for a large-group Bible study where everyone is welcome. As you can tell, each gathering plays a unique and complementary role in our corporate life as a church. If you're planning to visit for the first time, we're glad you're coming! Here's what to expect from each service.
Sunday morning is our main worship gathering. We begin by singing a few songs that teach us solid truth about God, His Son Jesus Christ, His plan of salvation, and what these things mean for us. Our music is a reverent blend, which means we cherish long-standing hymns and we also appreciate the richest songs being written today. We usually hear two passages of Scripture read publicly, one from the Old Testament and one from the New Testament, both of which shed light on the passage that will be preached later in the service. We are also led in two public prayers each week that express our adoration for God and present our requests to him.
Because God's word is the most important thing we can hear, much of our time together is spent listening to an exposition of the Bible that takes the point of the passage and makes that the point of the sermon. It would be wise to bring your Bible with you because the sermon will frequently refer to the passage being preached. If you don't have a Bible, just ask for one at the welcome desk – we'd be happy to give you one. So expect to sing songs that honor God, and expect to think and learn about God's word. On the first and third Sunday of each month, we have lunch together after the service. We'd love for you to stick around so that we can get to know each other and answer any questions you might have.
Every Sunday night we gather back together for prayer, praise, and a brief devotion from God's word. This is an informal gathering to spend time together as a church family. We sing God-centered, Christ-exalting songs. We talk and pray together about how the morning sermon applies to our lives. We share ministry plans and prayer requests that affect the whole church body. And we end with a short devotional from Scripture. We start at 5 pm and end around 6:15 pm.
Each Wednesday night at 7 pm. The pastor leads by asking questions, and everyone is welcome to participate by offering answers and asking follow-up questions that relate to the text. We study a book of the Bible all the way through, a few verses each Wednesday, and we ask these sorts of questions: What does it say? What does it mean? What does it mean for me as an individual, or for us as a congregation? What does it teach us about God the Father? What does it teach us about the person and work of Jesus Christ? What does it teach us about salvation? What does it have to say about the Christian life? How does it apply to our lives at home, at work, and at school? This is a great opportunity not only to learn the meaning and application of specific texts but also to learn how to ask good questions of any biblical text so that your personal study of God's word becomes more and more fruitful. We start promptly at 7 pm and end promptly at 8 pm.